Advanced Chemistry and Bioengineering Research Center [a-CYBER]
Creating leading-edge materials and technology in consideration for life and environment.
The Advanced Chemistry and Biotechnology Research Center is creating new products including biomaterials, medicine, and functional foods, and also effectively using a wide range of state-of-the-art technology on biological phenomenon such as cell differentiation, neurotransmission and histological lesion for use in the fields of life, health, environment, and material science.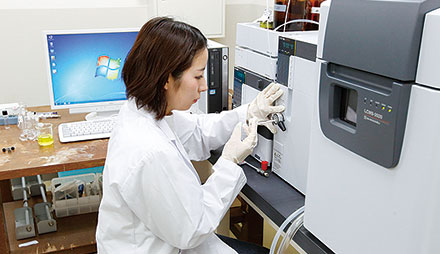 Application of bioprocess:
We aim to regulate functional hybrid materials for health/medical use and making effective use of biomass resources.
We are involved in the application of the biological responses of cells and animals to foods, cosmetics, medicine, along with the safety evaluation of substances in the environment, and the discovery of new bioactive substances.
Introduction of CYBER (fusion technology of organisms and machines):
We are developing new technologies that will lead to the production and establishment of mechanical materials and systems including automobiles.
Staff